**Christmas 2018 opening times**
Closed Monday 24th December 2018 – reopening Wednesday 2nd January 2019
Christmas Party Nights | Hassle Free Christmas | Christmas Gifts | Vouchers | Hampers | Entertainment


Guys, we are planning yet another FABULOUS Christmas here in Nancy's Barn and we CAN'T WAIT!
Christmas Party Nights
Check out our Christmas Party Nights menu below. We'll be hosting four nights of festive fun – 14th, 15th, 21st and 22nd December. Contact us to book your table.
Hassle Free Christmas

Fancy the full Christmas Dinner with all the trimmings, but don't fancy the hassle? Then let us do all the work for you. You can order up until Friday 21st December, and collect your dinner on Christmas Eve. Then all you have to do is heat it up and enjoy! See details below. Contact us to place your order.
Christmas Gifts
We have the perfect gift ideas for your loved ones this holiday season.
Vouchers
Why not treat them to a meal at Nancy's Barn? We have vouchers available to purchase, to whatever value you wish.
Hampers
We have beautiful Nancy's Barn pottery, made by the very talented Moville Pottery, available to purchase. There is a great selection of items (coffee cups, latté cups, chowder bowls, milk jugs, sugar bowls etc.) that can be made into a beautiful hamper for your loved ones. Pre-made hampers are available, but you can create one with your preferred items if you wish. Contact us for more information or to place an order.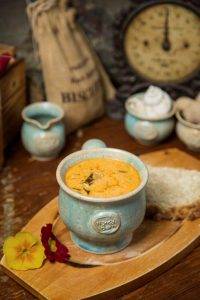 We also have delicious Kinnegar Brewing hampers available. Contact us for more information or to place an order.
Entertainment
Many of you would have been along to our Tapas Nights and Sunday Bistro Evenings during the summer, with our local live acoustic sessions. We will be putting on great music again over the holidays and on our Party nights.
More information will be listed on our Events page as details become available.
In the meantime, contact us here if you have any queries.